HAMEX-GROUP
ONE SOURCE FOR ALL POULTRY SOLUTIONS
EGG SYSTEMS
When it comes time to get your flock started right, look no further than our Starter Systems. Our Starter System is the ideal system to raise your flock and prepare them to be transported to an adult layer system, such as a conventional battery cage or large group aviary cages. For those looking to raise a flock to be put into an alternative layer environment, our alternative rearing systems will prepare your flock for an alternative environment.
MEAT SYSTEMS
Advanced technology used for the best performance. As a broiler producer, your concern for healthy birds, excellent feed conversions and flock uniformity is highest priority. We provide full systems from parent to floor or cage systems to meet your needs.
INCUBATORS
If you are looking for our Top of the range incubators, which include the ultimate in cooling systems and patented, CO2-steering, eggweight-loss measurement, eggshell temperature control. Or, if you just need basic digital incubators or our analog incubators that still achieves outstanding results, we can serve all needs including automation and engineering.
The HAMEX Group provides a complete line of poultry, incubation, feed mills production equipment and buildings around the world. We will provide you with the equipment, design and construction of projects matched towards your present and future needs.
We offer practical, economical and environmentally-friendly, cost conscious design and construction for; broiler, broiler breeder and turkey meat production systems; a full range of pullet rearing and egg production systems, including belt/curtain cages, alternative and enriched colony housing; as well as manure management systems, bulk feed handling, feeding, watering, environmental control equipment and associated production computer control/management systems, incubation with setters hatchers and automation, as well as the buildings to house all equipment in.
The HAMEX Group stands for long-lasting quality, service, and unmatched knowledge, and by working with only the industry leaders, our innovations will continue to positively influence the industries we operate in. Our customers around the globe benefit from our total solutions approach - from our poultry, and egg production systems, incubation systems and Feedmill solutions, to our integrated automatic controls, we will set the standards for efficiency, productivity and reliability.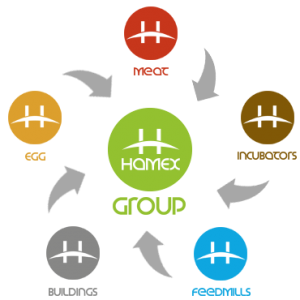 All poultry solutions from one hand